The 1.7 update introduced Vehicle Skins. Yes, all vehicle skins where included on that version.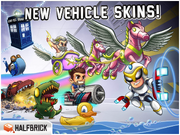 Unless more vehicles are coming, currently those are the only skins in the game.
Skin List
Edit
Zombie T-Rex - "Holy balls! Barry Steakfries riding a Zombie T-Rex through a science laboratory is about as awesome as it gets!"
The Barry Box - "The legitimate scientists took 'mobile phone' a little too literally."
Hover Hog - "The scientist's quantum engine bends space and time to keep items aloft. What better way to use the technology than to look totally rad on a Hover Hog?"
Colossatron - "The scientists enjoyed playing Colossatron on their phones so much that they decided to make an exact 1/4 scale replica!"
Mecha Micro - "Have a whale of a time with this mechanical mammal! It's been well oiled with a rust proof finish!"
Magnet Man - "Barry's attractiveness is guaranteed to go up 50% while wearing this suit. Magnetizes everything but coins, oddly enough." (Tough you can use it to collect coins if you buy Gravity Suit Magnet!)
Bubbles - "When a bath overflow came into contact with unstable growth formula, Bubbles was the outcome."
Chariot of Harmony - "Everything is rainbows and dandelions when this pegasus drawn chariot rides into town!"
Ad blocker interference detected!
Wikia is a free-to-use site that makes money from advertising. We have a modified experience for viewers using ad blockers

Wikia is not accessible if you've made further modifications. Remove the custom ad blocker rule(s) and the page will load as expected.