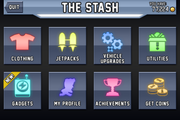 The Shop (formerly The Stash) is one of the buttons on the main menu screen of Jetpack Joyride. It is used to open, as the name suggests, The Shop. From the stash, you can purchase numerous in-game items, such as clothing, jetpacks, vehicle upgrades, Power-Ups, gadgets, and in-app purchases. You can also check your profile and achievements.
Ad blocker interference detected!
Wikia is a free-to-use site that makes money from advertising. We have a modified experience for viewers using ad blockers

Wikia is not accessible if you've made further modifications. Remove the custom ad blocker rule(s) and the page will load as expected.