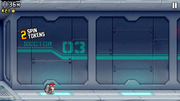 Sector 3 is the third area. Sector 3 is a Bluish-Green or Turqouise. This sector starts on a medium pace, and gets faster as you move along.
From about 1500 meters to about 2250 meters, approximately 750 meters just like Sector 1.
Difficulty
Edit
This sector's difficulty level is between easy-normal difficulty due to the increased number of obstacles. You can make this sector easier by getting in a vehicle.
---
Ad blocker interference detected!
Wikia is a free-to-use site that makes money from advertising. We have a modified experience for viewers using ad blockers

Wikia is not accessible if you've made further modifications. Remove the custom ad blocker rule(s) and the page will load as expected.