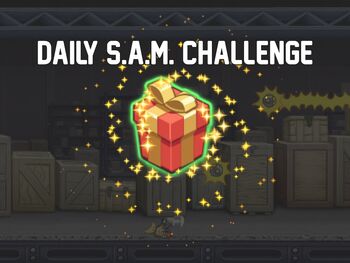 Each time you finish a Strong Arm Machine (S.A.M.) ride, you get a prize.
Standard Prizes
Edit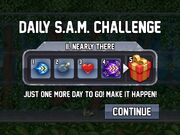 Throughout the course of five days you will be awarded different prizes for using S.A.M.
Day 1: Head Start, or 500 coins
Day 2: Final Blast, or 1000 coins
Day 3: Super Head Start, a Quick Revive, or 3000 coins
Day 4: Super Head Start (five pack), Quick Revive (five pack), Final Blast (five pack) or 5000 coins
Day 5: Random costume piece, 7500 coins if all costume pieces are unlocked.
S.A.M. Costumes
Edit
If you will take a S.A.M. ride five days in a row, you will get an exclusive costume item! There are 23 complete costumes and 1 optional costume to collect but there are 46 costumes pieces and 2 optional costume pieces to collect. You can automatically get a costume piece by paying £1.99 Uk pounds.
Angel Outfit
Astronaut Suit
Bath Time Barry Outfit
Bomber Outfit
Caveman Outfit
Cowboy Outfit
Crab Costume
Devil Costume
Digitized Duds
Doctor's Outfit
Football Uniform
Futuristic Outfit
General Moustache
Indiana Jones Outfit
Lunar Scout Outfit
Mime Outfit
Pilot Suit
Polar Outfit
Scallywag Suit
Snowman Costume
Tron Light Suit
Wizard Outfit
Wonder Woman Outfit
God's Costume*
*The God's Costume is a DLC costume due to main vehicle
Sleigh of Awesome
being a DLC that cost money.