Hello my name is DeathXDetermination, I found a cool glitch . No laser ,but have coins and rocket and other stuff...! 1.Have all three letters S.A.M and summon him. 2. Restart to the start. Then done NO
LASER BUT COINS AND ROCKET EVERYWHERE XD . Well enjoy your glitch, NOT REMOVE OR PATCHED YET .
Glitch found by me in 2017
AND if you quit the game you'll lost the glitch , it works every S.A.M you spawn in.
=PPPPPPP
Lol you can get infinite coins and other stuff =/////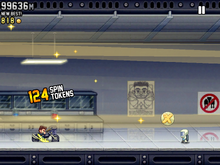 PICTURE ------------------------------------------------------------->
INFINITY SPIN TOKENS IF YOU HAVE THE MOTO BIKE WITH THE GLITCH XD
Ad blocker interference detected!
Wikia is a free-to-use site that makes money from advertising. We have a modified experience for viewers using ad blockers

Wikia is not accessible if you've made further modifications. Remove the custom ad blocker rule(s) and the page will load as expected.