Leap gracefully over obstacles with these designer sneakers.



This gadget allows Barry to jump while on the ground, quickly launching him approximately half-way to the ceiling.
The ability to 'jump' refreshes every time Barry's feet hit the ground.
When you jump with the Air Barrys, it will scare Scientists unless the player has equipped certain jetpacks that are usually harmless such as the Rainbow Jetpack or the Bubble Gun Jetpack.
Tapping the pause button will use the Jetpack instead of the Air Barrys.
Special Gadget Combinations
Edit
This gadget is most likely a reference to Nike's Air Jordans
Video Trailer
Edit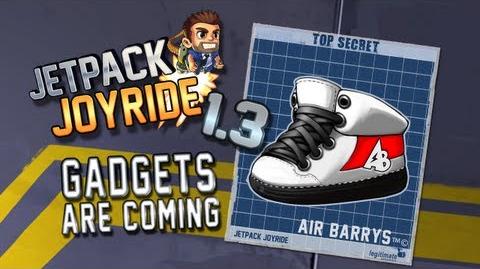 ---
Section 1: Research and Development

Flash

 ·

Air Barrys

 ·

Nerd Repellant

 ·

Insta-Ball
Section 2: Fringe Science Lab

Gravity Belt

 ·

Missile Jammer

 ·

Token Gift
Section 3: Pseudoscience Action Group

Freeze-O-Matic

 ·

X-Ray Specs

 ·

Gemology
Section 4: Futurologist Lounge

Ezy-Dodge Missiles

 ·

Magnetic Tokens

 ·

Flying Pig
Section 5: Testing Zone

Free Ride

 ·

Coin Magnet

 ·

Lucky Last
Section 6: Antimatter Storage

Dezapinator

 ·

Turbo Boost
Other

Special Gadget Combinations